Solar powered canoe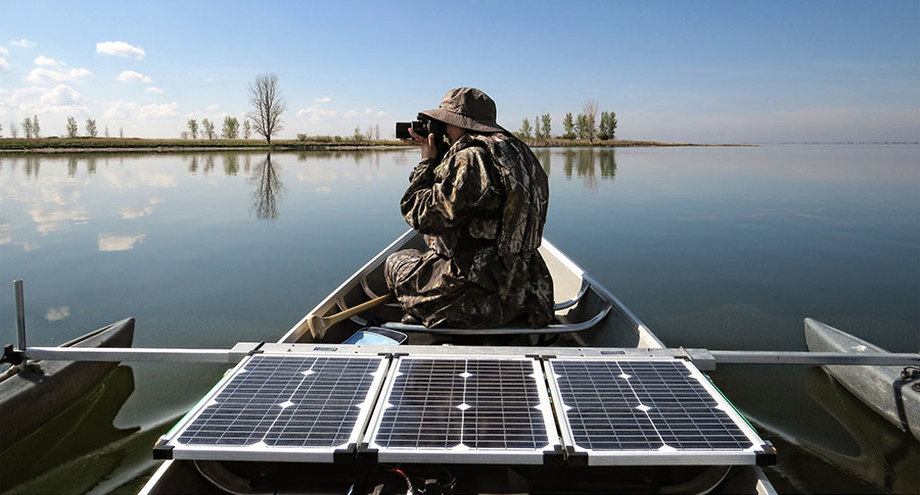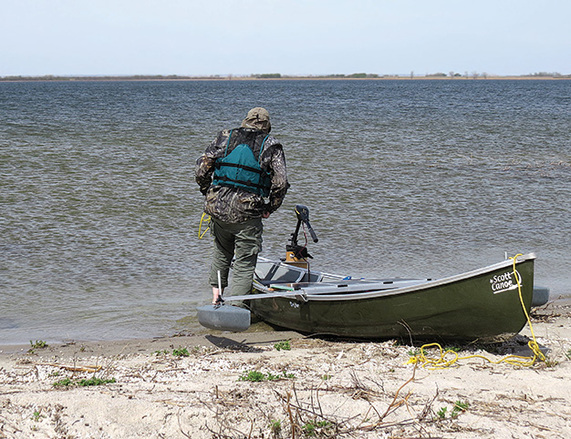 We converted our Scott Canoe to a solar powered outrigger canoe, in 2013.

Note: We receive no financial incentives from any product manufacturers. Recommendations are based only on our personal experiences.





---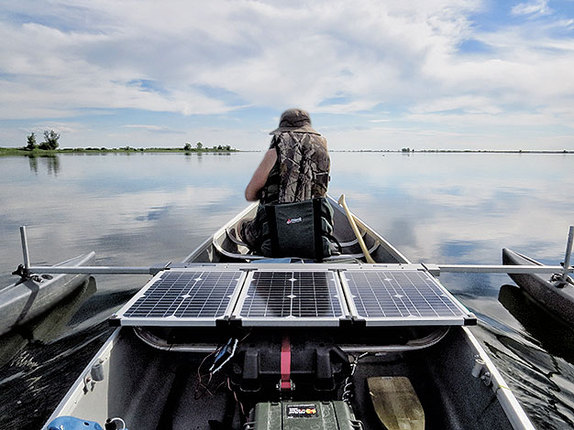 Three Coleman 30 watt crystalline solar panels are mounted on spruce 1x2s. They are secured to the center seat with 2 readily available, flat bungee cords.

The panels are connected to a Coleman charge controller. The controller is connected to a pair of marine quality AGM (absorbed glass mat) batteries. The batteries are also "midship" on either side of the center seat. They are strapped to the center seat metal frame with a common ratchet tie-down strap.

We purchased two Minn Kota Endura C2 Trolling motors. One is stowed onboard as a spare. Two seasons have passed and we haven't needed the spare! We also carry two paddles.

---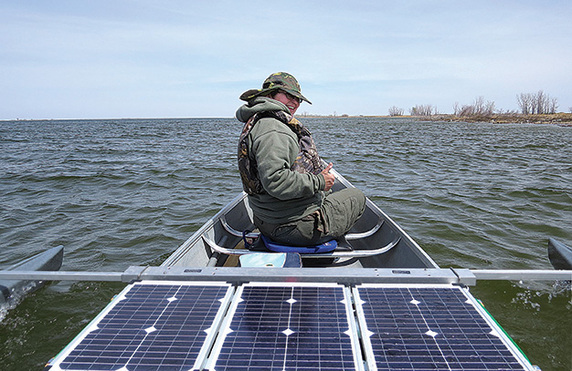 Sharie gives me thumbs-up on the maiden voyage! We spent 8 hours on Last Mountain Lake (Saskatchewan). There was ice on the lake a few days before this test.

Both AGM batteries were fully charged when we returned to the boat launch at day's end.

We experimented with "weedless" propellers, but have settled on the standard propeller included with the Endura C2. The standard propeller enables us to maintain a much higher travel speed. It performs about the same in weedy shallow areas. It's easy to remove weeds as necessary.

We always run with the propeller as shallow as possible.

---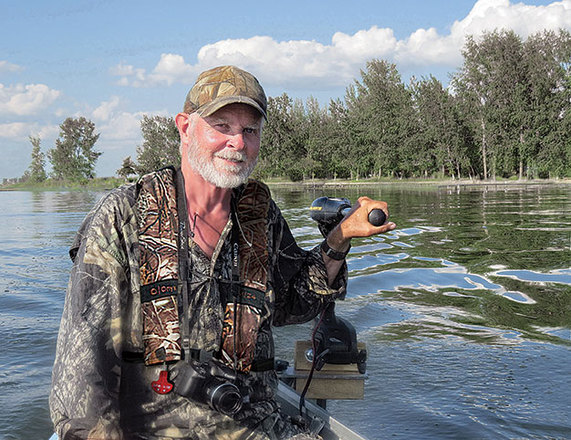 Our 14 foot canoe was custom made by Scott Canoe in 2005. It has a 42 inch wide beam and a flat bottom similar to a cargo canoe. We chose neutral colors to blend into our surroundings. Alas, Scott Canoe (Mid-Canada Fiberglass) has closed its doors.

http://www.esquif.com has some interesting canoes that could be set up in a similar manner as ours.

http://holycowcanoe.com has models with 37 inch wide beams.

http://www.clippercanoes.com lists "The MACKENZIE SPORT 18 footer" with a 40 inch beam. All three manufacturers are Canadian.

Note: Approved life jackets for children have additional safety features. The Canadian Red Cross website has extensive information on Life Jackets for Children.

---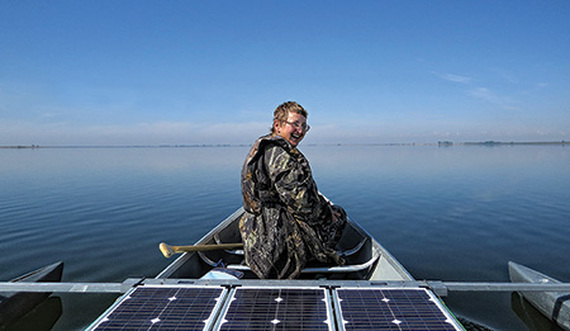 We always secure our canoe to a tree, rock or metal screw-anchor that we carry. It's not fun to be stranded on an island miles from shore, watching your canoe drift away! We carry spare wiring, wire connectors, tools, a first-aid kit and survival gear, including waterproof matches.

We carry a GPS and high quality compass with a built-in sight. Please be careful in vast marshes. They can be like a maze, without a GPS. Quill Lake, Saskatchewan is a perfect example.

Camouflage life jackets can be hard to find, especially late in the season. We often wear loose camouflage shirts over standard lightweight foam life jackets. Camo or clothing with muted earth tones has served us well.

---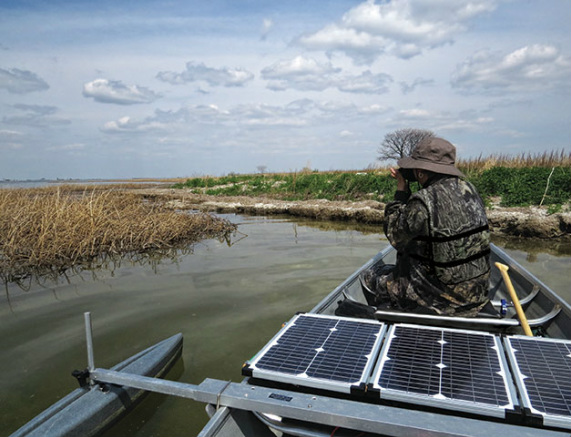 In this photo, Sharie is preparing to photograph an American bittern. It was standing in the grasses on the right.
I cut the motor and we drifted into position.
We purchased our (outrigger) stabilizers from
http://www.sailboatstogo.com (LINK)
I followed the directions on the their website, measuring carefully across the gunnels at midship.
We chose the streamlined Hydrodynamic floats. A week later our stabilizers arrived and fit perfectly. Our outrigger canoe was born!
---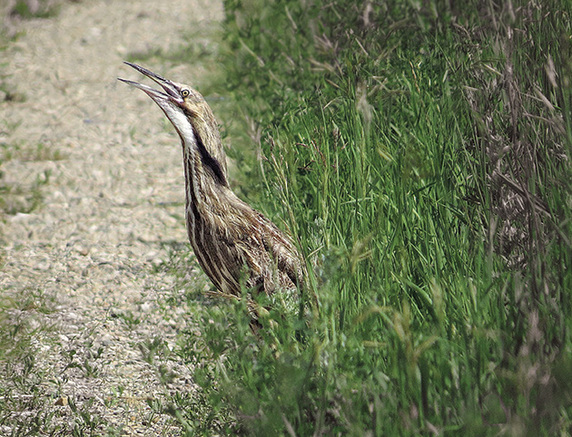 We wouldn't have this photo and hundreds of others -- without our quiet, reliable solar powered canoe.

---